You can be forgiven for thinking that the new show from Dan Harmon, creator of Community and Rick and Morty, might come off as niche. Available on the new comedy streaming service Seeso, Harmonquest features comedians playing Pathfinder — a tabletop role-playing game similar to Dungeons & Dragons — in front of a live audience and behind a table furnished with character sheets, snacks and myriad colorful dice. The adventures the team plays through are then animated in post — much like The Ricky Gervais Show — to illustrate the fantastical, quirky brio of the game. In other words, it's a gathering of nerds transformed into a cartoon.
Chief among those nerds is Spencer Crittenden. He looks too socially awkward to be a comedian, with his big, beautiful bushy beard and monotone voice. OnHarmonquest, Crittenden is producer, writer and "game master" — he runs the show. So how did someone like him become such a prominent figure on a television series built around a precarious device like improv? To answer this question, we must first examine the intense cult of personality built around Harmon.
Like Joss Whedon, Harmon has an unusually ardent fan base for a TV showrunner, and he's cultivated the kind of celebrity usually reserved for pop idols or movie stars. At CommuniCon, an event where fans got to meet the stars and crew of Community, Harmon was treated like a king. On Twitter, Communitygroupies hang on his every word. And then there's the long-runningHarmontown, a live comedy show hosted by Harmon at the NerdMelt Showroom in Hollywood, recorded every week in front of a live audience and made available as a free iTunes podcast and paid-subscription video podcast. It's more or less a platform for Harmon to say and do as he pleases.
Harmontown's talk ranges from trivial personal complaints to conceptual comedy riffs to political issues — the laid-back, shoot-the-shit atmosphere allows for anything to happen. Harmontown is also like group therapy, for both Harmon and the audience members he invites to the stage to talk about their physical and emotional problems. His tendency to veer into digressions is managed by "comptroller" Jeff Davis, an improv comic perhaps best known for appearances on Whose Line Is It Anyway?; the show is at its most entertaining when it features comedian guests. Regulars have included Harmon's ex-wife, Erin McGathy, and Kumail Nanjiani (Silicon Valley), while the likes of Robin Williams, Laraine Newman and John Oliver have appeared as well.
Harmon occasionally talked about Dungeons & Dragons on the podcast, then eventually decided, in the middle of a show, to try playing it live. He asked the audience in front of him if anyone was a dungeon master — the organizer of an RPG game responsible for narrating the adventure and administering its details, rules and challenges. One young man waited to see if anyone else would volunteer before raising his hand: the shy, soft-spoken Crittenden. He'd mostly attended for the chance just to try talking to Harmon about D&D after the show.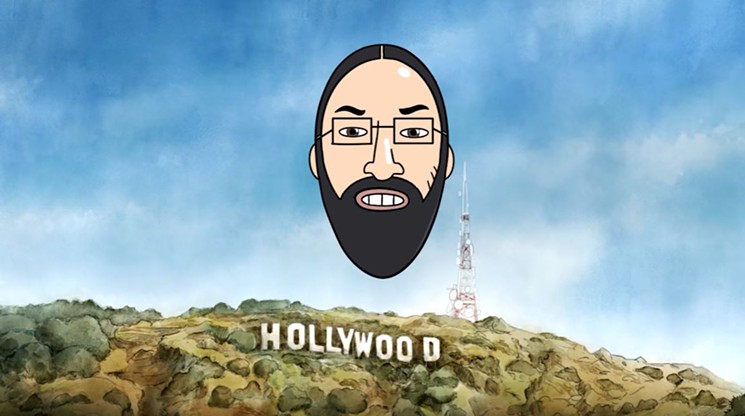 "That's what tipped the scale in me going there," Crittenden says. "I'm an anxious person — I would never go and do something fun on my own like that."
The hosts liked Crittenden so much they invited him back, and before long D&D was a regular improvised segment on Harmontown. The chemistry between the three men is evident. Crittenden had no comedy experience. He's not a trained public speaker. But his laid-back nature and mastery of the game make him an excellent complement to the loquacious Harmon and irreverent Davis.
Harmonquest, then, is essentially a Harmontown spinoff, and its appeal for fans is obvious. But why should anyone else watch? For those who appreciate a good pen-and-paper fantasy game, it's fascinating to watch comedians improvise their way through a session. They imbue the humorless RPG mechanics with a levity that's nonetheless respectful. It's also interesting to see a game that ordinarily takes place entirely in the imagination of its players come to life in animated form.
Harmonquest appeals on another level: comedy. The Hollywood Reporter recently described a resurgence in the mainstream appeal of D&D. It listed a host of celebrities who are avid players, including comedian Patton Oswalt andAdventure Time creator Pendleton Ward. That makes sense: Improv and RPGs share "overlapping skill sets," says Crittenden. "You're coming at something from a new perspective, trying to see it in different ways. That's what comedy is: looking at something from a funny angle. It's the same mental gymnastics."
As game master, Crittenden is solely responsible for devising the Harmonquest adventure on which the players riff. "If Dan, as executive producer and cast member, knew the story, that would betray the spirit of what we were trying to do, and so I was basically on my own to write everything," Crittenden explains.
Harmon created the show and acts as executive producer, but got so busy with other projects early on in its development that he handed the reins to Crittenden, who now more or less runs Harmonquest on his own. When Crittenden found out that he'd be in control, he didn't take it well. In fact, he started to hyperventilate. "I'm afraid of things changing," he says, "but the flip side is that when things change for me I have a good time adapting."
Crittenden believes a "gentle learning curve" made it easier for him to produce the show, thanks to Harmon's guidance. "By the second episode, I started to get into the swing of things and getting more comfortable giving notes and stuff," he says.
Attending that serendipitous Harmontown taping has paid off. In the last few years, Crittenden has come out of his shell. A documentary that followedHarmontown's 2014 tour exemplifies Crittenden's slow but sure-footed acclimatization in becoming the podcast "treasure," to borrow one listener's term. One endearing scene in the film shows a cute girl asking for Crittenden's autograph, her eyes shining with excitement. After she leaves, he can't hide his pleasant surprise from the camera. Crittenden has gone from his simple role as game master to unofficial podcast co-host. He's gone from playing D&D in basements to playing it with professional comedians. He's gone from zero television experience to guest starring on Community and writing and producingHarmonquest.
"I was able to grow into that space," he says, fully acknowledging his blessings. "I don't think that's a chance everyone gets."
Crittenden's friendship with Harmon has been an essential part of his development. And, he says, he isn't the only one benefiting from Harmon's mentorship. "He wants to cultivate relationships with young, talented, creative people and help them succeed."
In addition to Rick and Morty co-creator Justin Roiland, who was virtually unknown before he came on board that show, Harmon has helped others who are not yet in the public eye. "There's stuff happening behind the scenes and projects that haven't come to fruition or they're in back-development hell," Crittenden explains. This may come as a surprise given Harmon's reputation for being irascible on set. But Crittenden insists these collaborations come from Harmon's genuine desire to help people refine their ideas. "It's really cool and charitable and kind. It's fundamentally benevolent."